How to Prevent Tractor Turnovers and Other Farm Vehicle Accidents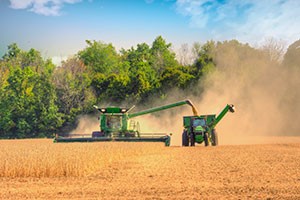 Farm Safety and Health Week, September 17-23, promotes the importance of best practices in our nation's agricultural sector. The Bureau of Labor and Statistics (BLS) reports that most farming injuries and deaths are caused by vehicle and equipment incidents. Turnovers, hitching and backup accidents, and entanglements are pressing dangers that all farmworkers should learn how to spot and prevent.
General Vehicle Safety
On any worksite with vehicles, thorough training and clear communication help to keep workers safe.
A noisy worksite can make it difficult for vehicle operators and on-foot workers to hear and communicate. All drivers and spotters should be trained to use the hand signals developed by the American Society of Agricultural and Biological Engineers (ASABE). High-visibility gloves will help make the signals easier to spot.
Falling Object Protective Structures (FOPS) should be installed wherever there is risk of a vehicle operator getting hit by debris.
Work locations should be assessed for safety, environmental conditions, and a traffic control plan that includes safe turnaround areas.
All farmworkers should be trained on vehicle blind spots, as well as safe operating, inspection, and servicing practices for all vehicles and equipment, and provided with personal protective equipment (PPE).
Vehicles and attached equipment should be parked or brake-locked when not in use, and turned off for servicing and refueling.
Hitching Safety
Backovers are always a hazard on work sites, but farm workers are at particular risk because of how commonly they help vehicle operators back up to hitch equipment.
Inspect all equipment, such as the drawbar hole and hitch pin, three-point hitch, and any hydraulic and electrical connections.
Make sure no one is standing or working in the path of the vehicle. High-visibility clothing can aid in maintaining visual contact between driver and spotter.
While aligning the drawbar hole and hitch, back up the vehicle as slowly as possible. Operators and helpers should use coordinated ASABE hand signals.
While ready to hitch the equipment, make sure the vehicle is fully in park or has locked brakes. Helpers should not approach the vehicle until the operator signals the okay.
Tractor Safety
Tractors are among the most crucial pieces of farming equipment, meaning that tractor safety is key to farm safety. They're involved in 50% of all farm worker fatalities, and 44% of farm accidents are tractor rollovers and overturns. 1 in 10 tractor operators will experience a rollover while driving.
Tractors should have a roll-over protective structure (ROPS) and an accompanying seatbelt, tightened to keep the operator inside the ROPS.
Avoid operating the tractor near holes, embankments, and ditches, or on slopes too steep to climb safely.
Operate the tractor smoothly and reduce speed on smooth, slick, muddy, or steep surfaces.
A useful piece of machinery is the power take-off shaft (PTO), which uses power from the tractor engine to help run other machinery. A rotating PTO can create entanglement and contact hazards, so extra precautions should be observed.
A master shield or other PTO guard should always be in place and in working condition.
Long hair should always be tied back and loose clothing shouldn't be worn around a PTO.
No one should work alone around PTO-driven machinery, as a coworker is necessary to stop the PTO shaft during an entanglement.
Go Back to Safety News
---