1-800-571-4646
For sales & customer support
7:30 am - 7:00 pm ET, Mon-Fri
Northern Safety Co., Inc.
PO Box 4250, Utica, NY 13504-4250
Phone: 1-800-571-4646
Fax: 1-800-635-1591
Northern Safety & Industrial
Identifying Electrical Power Line Hazards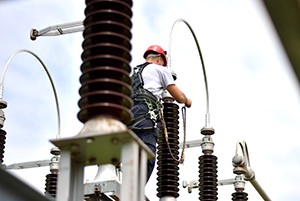 People who work with or near power lines can be exposed to electrical hazards. In fact, overhead and buried power lines carry extremely high voltage and pose threats such as burns, falls from elevations, and fatal electrocution. The use of common equipment and tools that can come in contact with power lines increases a worker's risk. Some of these objects include:
Aluminum paint rollers
Backhoes
Concrete pumpers
Cranes
Long-handled cement finishing floats
Metal building materials
Metal ladders
Raised dump truck beds
Scaffolds
To avoid hazards, the Occupational Safety and Health Administration (OSHA) offers these tips:
Contact utilities for buried power line locations
Look for overhead power lines and buried power line indicators
Unless you know otherwise, assume that overhead lines are energized
Post warning signs
Stay at least 10' away from overhead power lines
De-energize and ground lines when working near them
Guard or insulate the lines if de-energizing is not an option
Use non-conductive wood or fiberglass ladders
For more information on recognizing hazards involved with energized power lines, visit OSHA's website.
Go Back to Safety News
---