1-800-571-4646
For sales & customer support
7:30 am - 7:00 pm ET, Mon-Fri
Northern Safety Co., Inc.
PO Box 4250, Utica, NY 13504-4250
Phone: 1-800-571-4646
Fax: 1-800-635-1591
Northern Safety & Industrial
Know How to Stay Safe in Harsh Winter Weather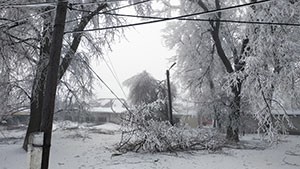 Winter storms can produce a pretty snowy landscape, but also present potential hazards. Those caught in harsh weather may contend with car accidents, hypothermia, frostbite, and carbon monoxide poisoning from the extreme cold, freezing rain, snow, ice and high winds.

To prepare, Ready.gov suggests the following:
Prepare your home to keep out the cold with insulation, caulking and weather stripping.
Learn how to keep your pipes from freezing.
Install and test smoke alarms and carbon monoxide detectors with battery backups.
Pay attention to weather reports and warnings of freezing weather and winter storms.
If you are under a winter storm warning, find shelter right away.
Gather supplies in case you need to stay home for several days without power.
Create an emergency supply kit for your car. Include jumper cables, sand, a flashlight, warm clothes, blankets, bottled water and non-perishable snacks. Keep a full tank of gas.
Learn the signs of, and basic treatments for, frostbite and hypothermia.
If you are already experiencing a winter storm, follow these guidelines:
Stay off the roads.
Stay indoors and dress warmly.

If you need to spend time in a public indoor space in order to stay safe from the cold, follow CDC precautions to protect yourself and others from COVID-19: wear a mask and maintain a distance of at least six feet between yourself and those who are not a part of your household.

Prepare for power outages.
Use generators outside only and away from windows.

Avoid carbon monoxide poisoning. Only use generators and grills outdoors and away from windows. Never heat your home with a gas stovetop or oven.

Listen for emergency information and alerts.
Look for signs of hypothermia and frostbite.
Go Back to Safety News
---