Recovery and Clean-Up After a Flood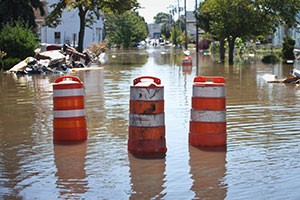 Rain is an essential part of growing crops, trees, and grass, but too much of it isn't necessarily a good thing. Elevated water levels can be very destructive to land and property, and unfortunately, the effects can be long-lasting.

Floods are caused by hurricanes, rapid snow melt, sudden heavy rain, a levee break, or several days of moderate rain. In the most extreme cases, communities must evacuate, and floodwaters cause fatalities and health risks.

The Centers for Disease Control and Prevention (CDC) provide important safety guidelines for post-flood recovery and clean-up.

If you had to evacuate, do not return home until local authorities have determined it's safe to do so.
Never walk or drive through flooded waters. Cars and people can be washed away.
Your water supply may not be safe. Monitor official local announcements regarding water use. During a boil water advisory, use only bottled, boiled, or treated water for drinking, cooking, brushing your teeth, etc.
When cleaning, wear protective clothing, including rubber or nitrile gloves and waterproof synthetic boots.
Use fans, air movers, dehumidifiers, and air conditioning units to dry areas out.
Dispose of any food that has come in contact with floodwater.
Remove and discard drywall and insulation that was contaminated with floodwater or sewage.
Clean hard surfaces with soap and water and sanitize with a solution of one cup bleach to five gallons of water.
Discard items that can't be washed and sanitized with a bleach solution.

Go Back to Safety News
---