The Dangers of Slips, Trips, and Falls in Firefighting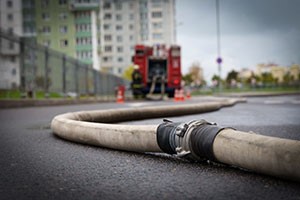 When people think of the dangers that firefighters face, they think of running into collapsing buildings and the aftermath of breathing in smoke and other fumes, but one thing that goes mostly unnoticed—the hazards of slips, trips, and falls on the scene and at the station.
The National Fire Protection Association (NFPA) reports that firefighters experience an estimated 80,000 injuries annually. Furthermore, 12% of all injuries are caused by slipping, and another 10% are caused by falling—making up 22% of all annual firefighter injuries.
If a firefighter is injured on the job, the department suffers the consequence. Thankfully, slips, trips, and falls can be prevented.
- Install grip tape on the rungs of ladders and steps of fire engines that do not already have some sort of traction on them.
- Wear leather boots over rubber boots when possible. They provide better protection and traction when the weather is inclement.

- If you live in a cold, snowy climate, have your fire company keep sand or rock salt on hand. This will not only make it safer for firefighters on the scene, but will also prevent pedestrians from slipping afterwards.

- Communicate with other team members about any hazards on the scene that could cause injuries.

- Always follow the "Three Point Rule" when getting in and out of fire engines. This rule requires three out of four points of contact to be maintained with the truck at all times—this allows maximum stability and reduces the likelihood of slips, trips, and falls.
Keep yourself and other department members safe on the scene so you all can go home healthy.

Go Back to Safety News
---